Summer Junior Camps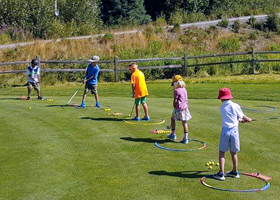 at Nicklaus North, instructed by PGA Golf Professional, Molly Lavercombe
Our 3-day Junior Camps offer children the opportunity to learn and further develop their skills on swing fundamentals, course etiquette and the rules of golf, in a fun and relaxed environment.
June, July, and August dates available for 7-10 years old or 11-15 years old.
Days 1 and 2 will focus on swing development, chipping and putting, through a series of drills and fun games. On day 3 the children will have the opportunity to take these new skills and apply them on course. A small refreshment will be offered on each day; however, children are encouraged to bring an extra snack and lots of water for those hot summer afternoons. The camps have been organized by age groups but are open for all levels of ability. Maximum 4 per group, Minimum 2.
Junior rental clubs available for lessons.
Back to Special Offers