Hole by Hole at Nicklaus North Golf Course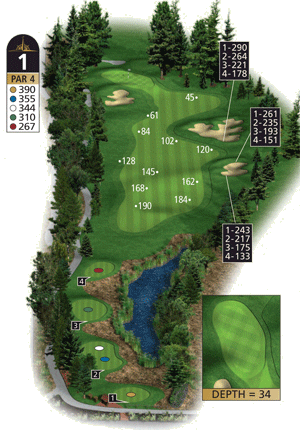 This medium length Par 4 opening hole demands an accurate tee shot. Avoid the deep fairway bunkers down the right side to set up a demanding second shot. A solid tee shot will leave a short approach to this well-protected green.
How the Pros Play the Hole
Play fairway woods up the right side, short of the large bunker (290 yards from the tee) to open up the hole for wedge or sand wedge approaches.
Hole 1
Par 4
Tees
| | |
| --- | --- |
| Gold | 390 |
| Blue | 355 |
| White | 344 |
| Green | 310 |
| Red | 267 |
| | |
| Men's HCP: | 5 |
| Women's HCP: | 9 |
Related