Golf Academy at Nicklaus North
The Golf Academy at Nicklaus North. Get Clarity. Connect the Dots.
We offer a peaceful setting to practice and improve your game with one of our qualified Canadian PGA Professionals. Our full-length driving range features grass tees and six target greens, perfect for improving shots of any length. We also offer a full size chipping and putting green as well as a practice bunker to cover every aspect of the short game. Whether you're a beginner or advanced, you can improve your game dramatically with our instruction programs. Lesson plans include all aspects of the game, rotating skills to encourage more productive learning and keeping interest high.
Summer Golf Instruction Programs
Whistler's Only Indoor Winter Golf Facility
***Due to Clubhouse renovations, the Indoor Golf Facility is CLOSED for the 2019/2020 Winter season.***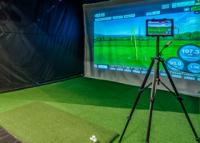 Winter Practice and Instruction at the Nicklaus North Clubhouse will be back in 2020/21 mid-October through March! Whistler's only winter golf instruction, practice area, and club fitting center, all at the clubhouse at Nicklaus North. Utilizing Flightscope X2 and Trackman 4 technology and a 16' hitting bay with ball flight projected on a full size screen, the team at Nicklaus North offers Golf Instruction with PGA Professionals, as well as opportunity to work on your game during the winter months. Full golf club fitting systems from TaylorMade and Ping will be available during the winter, as well as an indoor putting green to develop the skills necessary to be ready for golf in the spring!
Book a Lesson or More Information
Andrew Smart, CPGA - Director of Golf
Email:
[email protected]
| 604.938.9898 extension 213
Check out some of our Video Golf Tips online!
Testimonials
"Thanks so much Graham! Very informative and easy to take that to the range. I will focus on initiating from the ground up and get those hips moving." - J. Peckham
"Many thanks for the video and feedback. Yes I can see that by the end of the day I am not thinking and remembering how I should be swinging (you can probably see I am not really a Golfer yet!). My game does need quite a bit of help and I appreciate the video and insight into what I am doing wrong and how I could do things better. Thanks again and see you next year." - J. MacKenzie
"Thank you very much for the video and for the excellent tips about my swing. I will try to use it next time at the driving range and hopefully it will make a difference." - A. Doaga