Weddings at Nicklaus North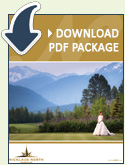 Creating the perfect ambiance for your Whistler wedding
The weddings team at Nicklaus North specialize in creating the perfect ambiance for your special day. Whether your vision for a dream wedding is a casual reception or intimate ceremony, Nicklaus North offers beautiful options for both. From the shores of glacier fed Green Lake, to the elegance of our fireplace lounge or restaurant, to our expansive patio overlooking an extraordinary Whistler mountain panorama – couples have an array beautiful choices for ceremonies, photo shoots and receptions - indoors or outdoors. Our facilities comfortably accommodate groups of 15 to 100 guests. Entrust the details of your wedding to our professionals, and free yourself to relax and enjoy the day.
More Information
Jennifer Vagg, Sales & Events Manager
[email protected]
| 604.938.9898 or 1.800.938.9898 ext 214
Testimonials
"For a wedding venue Nicklaus North is nothing short of amazing! The food was incredible and the attention to detail by Chloe and the rest of the team was spectacular. From the initial planning stages right through to our wedding day, every query and concern was managed in a smooth and professional manner. Having such a beautiful venue and such caring and attentive staff to back it up made our day magical. Many of our guests commented that it was the best wedding they had ever attended!" - David and Kathryn, 2011
"Thank you! The boys had a great time golfing and the guests are still raving about the bbq at your beautiful facility! Especially the ones from Ontario who aren't used to sipping on cocktails with a lake and snow-capped mountains in the background... I hope to be back at Nicklaus North soon!" - Aaron, 2011
"We decided to get married at Nicklaus North after visiting many venues in the Whistler area. Initially we were struck by the beauty surrounding the golf course and since this was a destination wedding, we needed a place that could be flexible with the number of guests since we didn't know how many people would attend. From the outset, we were very impressed by the staff at Nicklaus North. They made us feel very welcome and spent quite a bit of time with us making sure we understood the benefits of their facility as well as potential issues we may face so there would be no surprises on our wedding day. We also found the cost of the food, beverages and facility to be competitive with other venues. Once we decided on Nicklaus North, we found the staff to be very good about communicating with us as we finalized our plans, and they were very accommodating in meeting with us when it worked for our schedules since we were driving from Seattle. For example, when we came up for the food tasting, the golf course was shut down for a few weeks but the chef and staff came in to meet with us so we could approve the food and beverage choices. We also received great advice from Chloe regarding things we might do to enhance the facility on our wedding day. She did a terrific job of coordinating with a company to provide extra furniture and get it set up as well as helping the DJ get his equipment set up so we wouldn't have to worry about those details. Our wedding day was amazing. We arrived for pictures and Chloe had golf carts ready to whisk us and our photographer around the golf course to the most scenic locations. She also gets bonus points for making the sun shine after a very rainy morning! Chloe was also very good about helping my elderly father get to and from the locations for pictures so he wouldn't have to miss any of the fun. We added a unique element of arriving to the wedding via Whistler Air and Chloe was incredibly helpful in coordinating with them so our flight was seamless. And throughout the course of the evening, Chloe was always there for me...when my dress needed to be steamed, when I forgot my bouquet, and when we had to race to the clubhouse when it unexpectedly started to rain! I must also comment on how helpful Claire was in coordinating the waitstaff, making sure the venue was decorated beautifully, and ensuring that the food was served on time and was hot. This behind-the-scenes effort was pivotal in ensuring our evening was flawless. One final comment on the food. Cooking for large groups can be difficult but the chef at Nicklaus North is incredible. Most of our guests commented on how great the food was and we were very impressed by how fresh and flavorful it was. The chef even went to a local farm on the day of our wedding to get the freshest vegetables and herbs for our guests. It would be hard to find another chef in Whistler who would care enough about the food to provide that level of care in preparation. We would highly recommend Nicklaus North for any type of group event. From the beauty of the venue to the helpful staff and the amazing food, I can't imagine a better experience anywhere else." - Lindsay, 2011
"I just wanted to say a big "Thank You" for all your support to Meg and Ryan last month. I know you were so helpful in your discussions with Meg prior to the day. Your attention to detail was always noticed and appreciated, and your input was invaluable. The day of the event you were continually calm, supportive and helpful... arranging all the beautiful tables, making sure the aisle was "just so," turning on the video at just the right moment and assuring an anxious Mother of the Bride that the Commissionaire, would arrive on time!! The ceremony was lovely (such a stunning backdrop of scenery!) and the reception was perfect. Thank you – you were terrific!" - Linda, Mother of the Bride, 2011
"I wish to extend my families thanks and deep gratitude for your staff's tremendous efforts on Friday and Saturday. In fact, for the whole 6 months I can't really think of a part of the process that was below "above expectation" level. As you know, in this I have experience in F & B, and as a result have high expectations and understanding of how hard it is to develop a team that performed at the level we experienced. Special mention to Claire for her efforts." - Ed, Father of the Bride, 2011
"…we wanted to send you a quick note to thank you for the wonderful ceremony & reception at Nicklaus North. We have heard nothing but great things from our guests about the wonderful food many of them have told us that it's the best wedding food they've had! Please send along our appreciation to the chefs." - Katherine and Lawrence
"Thanks again Rebecca! We had the most amazing day ... exactly how we dreamed it would be! I had nothing except exceptional things to say about you and the rest of the staff. Our guests were so happy and repeatedly mentioned to us that Nicklaus North put on a perfect wedding for us." - Rachel and Chris
'It [our wedding] far exceeded my expectations. Thanks so much to you and everyone at Nicklaus North who helped make it so lovely. We had many compliments on the food / service / location!' - Cheryl and Aaron
"Adam and I wanted to thank you so much for the MOST amazing wedding ever! EVERYONE that attended said the food was the best food they ever had at any wedding! Everyone was amazed the elegance of the room and the service! You truly made all of my wedding dreams come true and I will never forget how wonderful my day was thanks to you!
Every detail was perfect- I could not find a single flaw in the day! Adam and I thank you from the bottom of our hearts-we had the best time of our lives!" - Amanda and Adam
"We cannot thank you enough for all your hard work this weekend and in the weeks and months leading up to it. We've received one great compliment after another from our guests about the venue and their overall experience. You and your staff did an incredible job. We've been reliving the experience in our minds over and over these last few days. It was just magical." - Jen and Alex