Hole by Hole at Nicklaus North Golf Course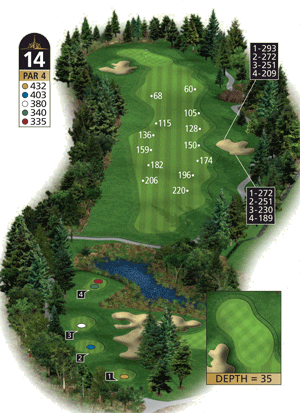 Making the turn back to the clubhouse, this par 4 yields many pars. The tee, set back among trees, forces you to aim toward the right side of this narrow fairway. The slightly elevated green is protected by one of the deepest bunkers on the course.
How the Pros Play the Hole
Drawing if off the bunker on the right, long ball hitters take it into 9-iron and wedge territory for a green that holds well.
Hole 14
Par 4
Tees
| | |
| --- | --- |
| Gold | 432 |
| Blue | 403 |
| White | 380 |
| Green | 340 |
| Red | 303 |
| | |
| Men's HCP: | 18 |
| Women's HCP: | 16 |