Hole by Hole at Nicklaus North Golf Course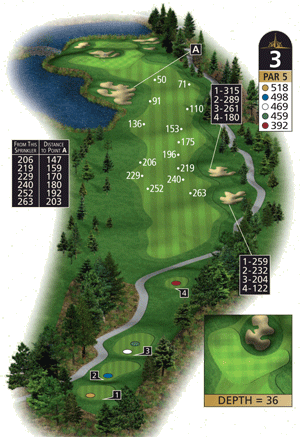 This long par 5 gives you plenty of room off the tee, but you're hitting into prevailing winds. Watch out for the fairway bunkers. On your second shot, water and large bunkers down the left-hand side make the right side the ideal lay-up. An accurate approach is needed to this large, shallow green.
How the Pros Play the Hole
Wind conditions dictate if players can take it past the second bunker (297 yards from tee) and go for it in two, careful not to challenge the left side of the green protected by water.
Hole 3
Par 5
Tees
| | |
| --- | --- |
| Gold | 518 |
| Blue | 498 |
| White | 469 |
| Green | 459 |
| Red | 392 |
| | |
| Men's HCP: | 3 |
| Women's HCP: | 1 |