Hole by Hole at Nicklaus North Golf Course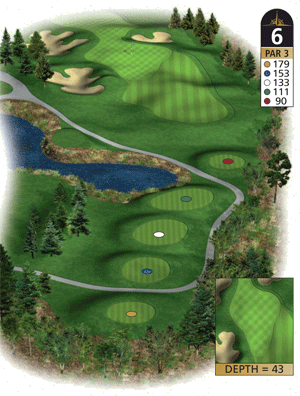 On the card, the most straightforward of the par 3's, but chances are you will face a strong crosswind. Bunkered on the left and back of the green, this double green shared with the eighth hole offers some challenging pin placements. Rainbow Mountain is the stunning backdrop for this hole.
How the Pros Play the Hole
Riding the prevailing left to right wind, 5 or 6-iron shots will leave a birdie putt. Pros will favor the right side of the green, careful to stay out of the deep bunker on the left.
Hole 6
Par 3
Tees
| | |
| --- | --- |
| Gold | 179 |
| Blue | 153 |
| White | 133 |
| Green | 111 |
| Red | 90 |
| | |
| Men's HCP: | 17 |
| Women's HCP: | 17 |