Hole by Hole at Nicklaus North Golf Course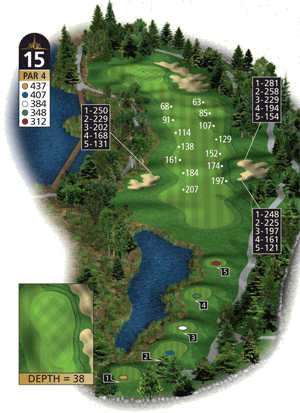 This hole offers your first glimpse of Green Lake. The lake has a greenish hue due to the mineral deposits caused by the melting glacier which drains into the lake. You'll have to contend with strong crosswinds on this lengthy par 4. This very large undulating green offers many challenging pin placements.
How the Pros Play the Hole
Fitting tee shots between the two fairway bunkers, long hitters set up for 7 or 8-iron approach.
Hole 15
Par 4
Tees
| | |
| --- | --- |
| Gold | 437 |
| Blue | 407 |
| White | 384 |
| Green | 348 |
| Red | 312 |
| | |
| Men's HCP: | 14 |
| Women's HCP: | 8 |