Hole by Hole at Nicklaus North Golf Course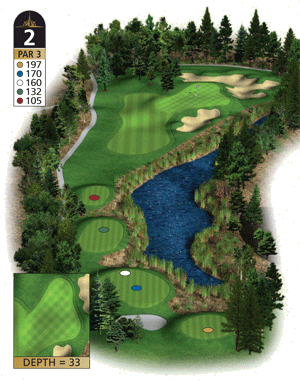 The first of the five challenging par 3's at Nicklaus North, this hole requires a good mid to long-iron shot to get the ball onto this large green. A large pond and bunker surrounds the right side of this challenging hole.
How the Pros Play the Hole
A solid 5-iron or smooth 4-iron to the left side of the green should lead to a relatively easy par.
Hole 2
Par 3
Tees
| | |
| --- | --- |
| Gold | 197 |
| Blue | 170 |
| White | 160 |
| Green | 132 |
| Red | 105 |
| | |
| Men's HCP: | 15 |
| Women's HCP: | 15 |